Widely regarded as one of Britain's best-selling authors and a leading spokesperson on nutrition and mental health issues, Patrick has written more than 45 books sharing his experience and understanding of the body and nutrition's impact on it.
Developing an impressive array of products, Patrick has enabled people to understand, apply and implement his concepts of Optimum Nutrition and 100% Health.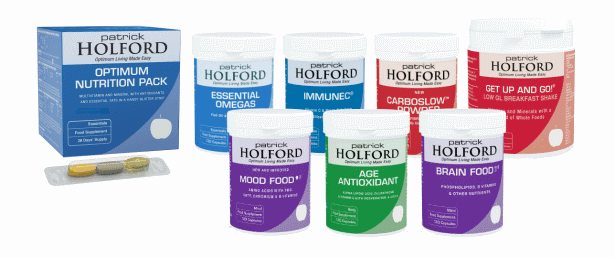 What is Optimum Nutrition?
"Optimum nutrition is about giving yourself the best possible intake of nutrients to allow your body to be as healthy as possible and to work as well as it can.
Many people, especially with modern lifestyles being as time precious and demanding as we all know them to be, do not achieve a balanced or varied diet. For some people, for reasons of genetics and circumstances, more than just the recommended daily allowances (RDAs) of nutrients may be required - hence the importance of food supplements to help ensure optimum nutritional intake, where appropriate.
For this reason, I have designed and formulated a range of supplements." - Patrick Holford
Books
As a bestselling author Patrick has written over 45 books which have subsequently been translated into over 30 different languages and with over two million book sales worldwide allowed many to gain a deeper understanding of their body and its requirements to achieve 100% Health.

100% Health Club
Inspires people to take responsibility for their own health and transform their lives, by looking and feeling better, and therefore younger and with more energy.
Consisting of a detailed health questionnaire which covers all aspects of diet and lifestyle the 100% health club provides individuals with a personalised dashboard and report of where they are and an action plan on how to achieve their health goals as if they'd had their very own consultation with Patrick Holford.